Wave exists to create disciples in a healthy church family.
So how does this actually happen at Wave?
Three very simple things:
We desire to help you and your family

Connect to Jesus

and His Family.
We desire to help you and your family

Grow in your faith.
We desire to empower you and your family to

Serve your world

with the love of Jesus!
It may sound simple, but this really is the best possible life; To live fully alive for the glory of Jesus!
---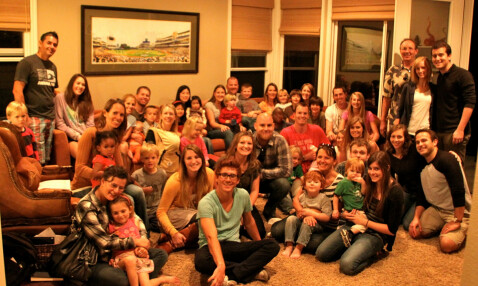 Wave began in December 2010 as a simple gathering of a few families in a local Carmel Valley home. Our heart was to experience Church as a spiritual family, to love Jesus, and to be a blessing to our community. We had a passion to authentically know and follow Jesus, to experience the power of God together, and to live out lives of love and service in the midst of our families, community, and world. Before we knew it our tiny gathering had grown to take over a whole living room and kitchen, with kids ministry in the garage, and a nursery upstairs! Wave held its first Easter service April of 2011 at Del Mar Beach! Thinking we would have just a few families join us, we were blown away when we had over 100 people join us to worship our Risen Savior! We knew God was on the move. Wave launched publicly in September 2011 at Ocean Air Recreation Center.
From our launch the heart of Wave has been to "Live Free, Live Jesus!" We desire to reach our community with the radical life changing Gospel of Jesus Christ, setting lives free to live fully alive with Jesus. We knew that in order to reach our community with a radical message, we would have to take radical measures. We came to realize that in order for us to reach people no one else was reaching, we would have to do things no one else is doing. We find this reality captured in the very words of Jesus in Luke 5:37-38 " no one puts new wine into old wineskins. If he does, the new wine will burst the skins and it will be spilled, and the skins will be destroyed. But new wine must be put into fresh wineskins." The question for Wave has been what new expression is God forming us into as we seek His Kingdom? Instead of seeking to find ways for our family, friends, and community to come to us, we began to seek every way possible for us to go to them! So our question was and is where is our community meeting and doing life? And how can we join them? The answer for us was: Ocean Air Recreation Center. This is the center of our community; a place where life happens. Families come to the Rec Center to enjoy the park, meet new friends, and enjoy the activities and programs offered. So as a community at Wave, we began gathering around Ocean Air Recreation Center to do life with our community. We began serving and blessing our neighbors as they visited the park. We began to pray as a community for God's spirit to bring His love and peace to those that are yet to experience it. God opened the doors for Wave to begin holding Sunday Worship services at the Rec. Center on Sunday mornings for the community. The Rec. Center provides a neutral space for people far from God to experience the community of Christ in an environment they are comfortable with. Many families have wandered into the Rec. Center on a Sunday morning only to leave having experienced the life changingpower of God in their midst! Just as Jesus came to earth and walked amongst us to declare the father's love and grace, Wave has taken this same mission into our community! To show our neighbors that God is near and desires to be in their life.
At Wave we passionately believe that God's desire for your life is to set you free to live life to the fullest with Him! Unfortunately, there are all kinds of things that seem to steal life rather than give it, that place us in bondage, rather than lead us to freedom. At Wave, we believe God leads us into the best possible life, a life of freedom through Jesus!