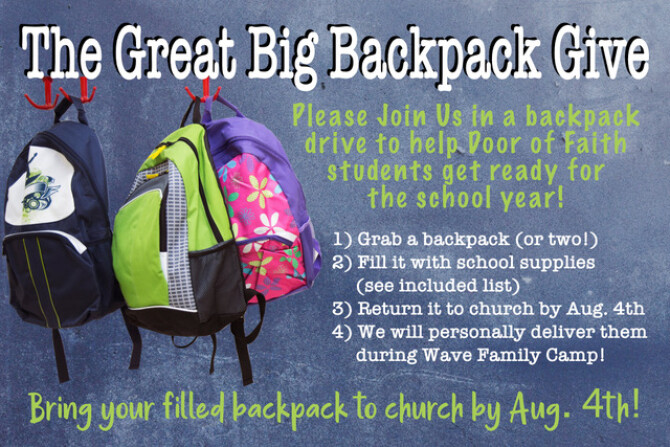 Sunday, July 07, 2019 - Sunday, August 04, 2019
Wave Church is gathering backpacks and school supplies in the month of July for the orphans at Door of Faith Orphanage in Mexico.
Our goal is 100 backpacks! Help us be the hands and feet of Jesus!
Fill your backpack with supplies listed below!
Return the backpack by Sunday, August 4th!
Kinder (Preschool-Kindergarten) Need: 15 backpacks
Pencils
School glue- liquid
Glue sticks
Scissors with a round ends
Pencil sharpener
Crayola colored pencils
Markers
Erasers
Play doh 4 pack
Contact paper- one roll- to cover books
Construction paper pack
Primaria (Elementary) Need: 45 backpacks
Pencils
School glue (liquid)
Glue sticks
Scissors with a round ends
Pencil sharpener
Crayola colored pencils
Markers
Erasers
Contact paper- one roll- to cover books
Geometry sets (with a ruler, protractor etc.)
Calculator
Clear tape
One pack of construction paper
Secundaria (Junior High) Need: 18 backpacks
Pencils
Pencil sharpener
Crayola markers
Erasers
Contact paper- one roll- to cover books
Scientific Calculator
Colored pocket folders (6)
Composition Notebooks (6)
USB drive
Highlighters
Pens: red, black and blue
White out
Clear tape
Prepa (High School) Need: 18 backpacks
Pencils
Pencil sharpener
Crayola markers
Erasers
Contact paper- one roll- to cover books
Scientific Calculator
Colored pocket folders (6)
Composition Notebooks (6)
USB drive
Highlighters
Pens: red, black and blue
White out
Clear tape