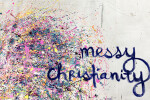 Life Group Study Guide: Loved what you heard on Sunday? Want to go deeper? The life group study guide will help you unpack what you heard on Sunday while diving deeper into God's word.
CONNECT
Have you ever felt really judged? What was it like?
DIGGING DEEPER
Read 1 Corinthians 3:10-4:13
The whole debate about Paul versus Apollos is an example of worldly wisdom that should be abandoned. In light of 1 Corinthians 3:10-17, why should a person abandon the world's wisdom?
What are the three warnings that Paul gives the Corinthians in chapter 3?
Verse 10, 13
Verse 17
Verse 18
Corinth was a hotbed of social progression, displays of wealth, and academic advancement. Driven by pride, social standing, and finances, the Corinthian Christians began to rank different believers and, in doing so, created division in the church. Paul addresses' this issue and begins to clarify what it truly looks like to follow Jesus.
Instead of putting leaders on pedestals, boasting about some and criticizing others, how should Christians regard their leaders (4:1)?
Whose judgement does Paul not care about (4:3)?
Whose judgement does Paul care about (4:5)? Read John 5:16-30. What does Jesus have to say about judgement?
Read 1 Corinthians 4:8-13. Compare and contrast the Corinthians' view of themselves to Paul's view of himself.
Paul confronts the lofty views the Corinthians have of themselves and the way they judge other believers. Paul describes his experiences as real Christian ministry. Read Luke 9:58 and 1 Peter 2:21-24. How are Paul's experiences similar to that of Jesus Christ's?
DISCUSS
What areas of your life are you more concerned with the judgement of others rather than the judgement of God?
In chapter 4 verse 9, Paul says we have become like a spectacle to the world. The Greek word theatron literally means theatre. When people see the show of your life, do they see Jesus?
Was there anything for this week's guided reading of the bible that connected to this study?
180-Day Guided Tour of the Bible
Reading Plan for Week of May 6th
Day 146 – Acts 16: Detour
Day 147 – Philippians 2: Downward Mobility
Day 148 – Acts 17: Mixed Results
Day 149 – 1 Thessalonians 3-4: Preparing for the End
Day 150 – 2 Thessalonians 2: Rumor Control