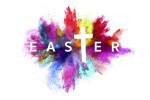 Life Group Study Guide: Loved what you heard on Sunday? Want to go deeper? The life group study guide will help you unpack what you heard on Sunday while diving deeper into God's word.
CONNECT
What is one of your favorite Easter memories or traditions?
Growing up, was Easter an important holiday for your family? Is it now?
DIGGING DEEPER
Read Luke 23:44-56. Summarize the events described from the women's point of view.
Read Luke 24:1-12. Have you ever had to deal with the death of a close friend or relative? Look at verses 1-5, putting yourself in these women's shoes. What do we know about their relationship with Jesus? (See Luke 8:1-3 for more background.) How has Jesus' death seemed to affect them?
What are the women hoping to do once they reach Jesus' tomb? What do you imagine they are thinking and talking about on the way?
As the women arrive at the tomb they find that Jesus' body is gone and two men in clothes that gleamed like lightening are there. The strange men explain things more fully in verses 6-8. What does Luke mean by "then they remembered his words" (verse 8)? What had caused the women to forget Jesus' words? What helps them remember and believe now?
In verses 9-11, the women return to the apostles to share what they had seen and heard. How did the women expect the apostles to respond? How do they respond? What does the apostles' response tell us about how the apostles have regarded Jesus' words?
In verse 12, why does Peter get up and run to the tomb? How does he respond differently from the other ten apostles? Why?
What are Peter's options of what to believe once he sees the tomb? What could prevent him, even at this point, from believing in Jesus' resurrection? Based on the last sentence, which option do you think he chose?
DISCUSS
Do you believe that the things Jesus promises will actually happen? When you encounter words of Jesus that are difficult to believe, how do you respond…
Forget them, as the women did initially?
Believe, act and bear witness as the women did after their encounter with the messengers?
Disregard them as ten of the apostles did?
Insist on finding out for yourself, as Peter did?
What things block you from believing Jesus' words? Do you really believe them? How will you act on them?
180-Day Guided Tour of the Bible
Reading Plan for Week of April 1st
Day 121 – Matthew 18: Out of Bondage
Day 122 – John 10: No Secrets
Day 123 – Mark 8: Turning Point
Day 124 – Mark 9: Slow Learners
Day 125 – Luke 10: Mission Improbable