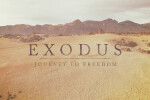 Life Group Study Guide: Loved what you heard on Sunday? Want to go deeper? The life group study guide will help you unpack what you heard on Sunday, while diving deeper into God's word.
CONNECT:
Looking back at your notes from this week's teaching, was there anything that particularly caught your attention, challenged, or confused you?
DIG DEEPER:
Do you tend to think of God in transcendent terms or immanent terms? Is one more important than the other?
Have you ever felt like God has asked you to do something that you weren't prepared for?
Over the past two chapters of Exodus, we have seen Moses struggle to establish his identity. Read Exodus 3:11-12. What is God's response to Moses' question of "Who am I?" What does this mean for us today?
Read Ephesians 4:22-24. What insight does this verse give us into God's response to Moses? What is the old self you need to put off? What does it look like to put on the new self?
MAKING IT PERSONAL:
Read 2 Corinthians 10:5. What lofty thoughts often lead you to find your identity in things outside of God? What does it look like to take every thought captive?
What attribute of God did you see in this week's passage that particularly struck you? How should it change the way you pray, think, speak, or act this week?
What is one take away from this Study that you will commit to place into action?