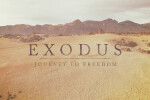 CONNECT:
What fads or fashions do you remember from growing up? How did the '70s, '80s, '90s, or '00s affect your sense of self?
DIG DEEPER:
For weeks we have seen Moses struggle with his identity. As a Hebrew-born, Egyptian-raised individual, he found himself caught between two worlds. Read Exodus 4:18-23. How has Moses's experience with Midian and Egyptian culture led him to trouble in this passage?
Read Genesis 17:9-14. Why is circumcision such a big deal?
Read Jeremiah 31:31-34. What is God's plan for this new covenant? How does it differ from the first covenant?
How will this covenant be confirmed? Read Luke 22:19-20.
Read Hebrews 8:6 and 9:15. How is the new covenant better? What does Jesus' death on the cross ensure for those who believe?
MAKING IT PERSONAL:
Have you ever been rebuked by a close friend or family member? How does God use other people in your life to bring correction when you step out of bounds?
Are there any areas of your life that are outside the boundaries of God's will for you? What steps do you need to take to get right with God?
What is one take away from this study that you will commit to place into action?