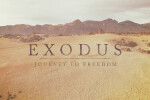 Life Group Study Guide: Loved what you heard on Sunday? Want to go deeper? The life group study guide will help you unpack what you heard on Sunday, while diving deeper into God's word.
CONNECT:
Looking back at your notes from this week's teaching, was there anything that particularly caught your attention, challenged, or confused you?
DIG DEEPER:
Read Exodus 4:1-5. Who is Moses worried won't believe him? How much of this is fair, and how much of this can we attribute to Moses's own unbelief?
What are Moses's five objections/excuses as to why God's plan won't work?
Read Exodus: 3:11; 3:13; 4:1; 4:10; and 4:13
Read 1 Corinthians 1:17-2:5. How are Moses's objections answered by this verse? What does that mean for us today?
The long narrative between God and Moses gives us insight into both individuals' characters. Review Exodus 3:1-4:17. What does this tell us about God's character? What does it say about Moses's character at this stage of his life?
MAKING IT PERSONAL:
Do you think Exodus 2:14-15 may have made Moses reluctant to respond to God's call? Do you use your past failures as excuses for not doing what God has commanded? If so, what is your plan to change?
What excuses are you making for not doing what God has called you to do? Has He provided the resources, both within you and from others, that you need? Read Ephesians 1:3-10. What does this say about what God has given to us and how He has prepared us?
What is one take away from this study that you will commit to place into action?