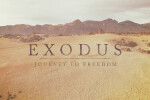 Life Group Study Guide: Loved what you heard on Sunday? Want to go deeper? The life group study guide will help you unpack what you heard on Sunday, while diving deeper into God's word.
CONNECT:
What was the greatest physical pain or discomfort you have ever had to endure? Broken bone? Stubbed Toe? Labor? Boot Camp? Share a story with your group…
DIG DEEPER:
Read Exodus 8:20-10:29.
At first reading, what stands out to you from this passage of scripture?
How did Pharaoh's response change with each passing plague? Ex. 7:23,
8:8, 15, Ex. 8:19, Ex. 8:25-28, 32, Ex. 9:7, Ex. 9:12, Ex. 9:27-28, 34-35, Ex. 9:10-11, 16, 20, Ex. 9:24, 28. How can you relate with Pharaoh's response to each plague? If it was you, how would you respond?
What is the difference between confession and repentance?
Compare Moses' words in Ex. 11:8 to God's word back in Ex. 7:11. How has Moses' confidence in God grown, even as Pharaoh's heart has hardened?
MAKING IT PERSONAL:
Have you ever tried to bargain with God?
Though we may not want to admit it, we often employ bargaining tactics with God, just as Pharaoh did. When are we most likely to bargain instead of repent? What faulty thinking about ourselves and our God does bargaining reveal?
On Sunday, Pastor Jason presented four truths about God that were revealed in the 10 plagues. Which one do you find most comforting? Which one do you find the hardest to accept?