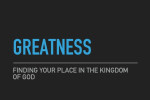 Life Group Study Guide: Loved what you heard on Sunday? Want to go deeper? The life group study guide will help you unpack what you heard on Sunday, while diving deeper into God's word.
CONNECT:
What is your favorite childhood memory?
What is the cutest thing you have even seen a kid do?

DIG DEEPER:
Read Ephesians 4:17-32. Summarize what you read. What truths about God do you find in this passage?
How does the "new self" compare to the concept of "humbling oneself like a child?"
How does Paul describe the life of someone living in the "new self?" Does this concur with the qualities and characteristics of a child-like faith that we learned on Sunday?
Verses 20-22 use words such as 'know' and 'taught.' What role does education and continuing to learn have in "putting on the new self?"
DISCUSS:
What steps do you take to put on the new self? What have you found to be effective?
Are there certain times you find yourself living in the ways of the old self? What steps do you need to take to change this?
On Sunday, we learned that finding our place in the kingdom is not only about becoming a child, but caring for children. What role does caring for children play in helping us live in the new self?
What is one intentional step that you will commit to take as a result of what you have learned from this study?
180-Day Guided Tour of the Bible
Reading Plan for Week of November 12th
Day 31: Judges 7: Military Upset
Day 32: Judges 16: Superman's Flaws
Day 33: Ruth 1: Tough Love
Day 34: 1 Samuel 3: Transition Team
Day 35: 1 Samuel 16: Tale of Two Kings