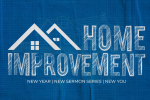 Life Group Study Guide: Loved what you heard on Sunday? Want to go deeper? The life group study guide will help you unpack what you heard on Sunday, while diving deeper into God's word.
Connect:
When you have made a mistake or blown it in a relationship, how do you
usually respond? How do your answers compare to what you do with God
when you blow it?
Dig Deeper:
Remembering both God's incredible provision of forgiveness, and our need for it, can help us become more generous in the forgiveness of others. The following verses take us back to the basics. Stop and reflect on each one and underline any key principles. How can each one help us grow in our ability or motivation to forgive? Read the following verses:
Isaiah 53:6, Isaiah 59:1-3, Isaiah 55:6-7, Jeremiah 33:6-9, Col. 3:12-15
Every family will have its rough spots, problems, or conflicts. God's family is no exception. Read 2 Corinthians 2:5-11. How are we to respond to a family member that blows it, admits it, and is open to change? How might Satan use
our unwillingness to forgive?
Read 1 Samuel 24:1-13.
How would you have responded if you were David? What did David's friends think he should do? What is unique about David's response? Who did David look to for retribution? How might you apply David's actions to your own life?
Make It Personal:
Forgiveness is not just about letting others off the hook and letting it go when
we are wronged. It's also about freeing ourselves from the baggage that we pick up if we are unforgiving. Read Ephesians 4:30-31. Do you see any evidence or symptoms of a lack of forgiveness toward others or yourself in your own life? If
so, can you identify someone that you may need to offer grace to and forgive?
Keeping short accounts is often the key to forgiveness. Is there someone you need to seek out to ask forgiveness from?