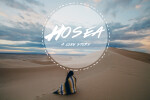 Life Group Study Guide: Loved what you heard on Sunday? Want to go deeper? The life group study guide will help you unpack what you heard on Sunday, while diving deeper into God's word.
CONNECT:
What is the craziest thing you have been asked to do?
Have you ever made an agreement that you later regretted?
DIGGING DEEPER:
Read Hosea chapter one.
Summarize what you read. What truths do you find about God from this passage?
Hosea is an illustration of God's covenant love, but what is that covenant? Read Exodus 6:6-8 and Ezekiel 16:8-14. How do these verses affect your view of what we read in Hosea?
God's command of Hosea to marry Gomer seems shocking. God is asking Hosea to "act out" the prophetic message that he is to deliver to the nation of Israel. Read Jeremiah 13:1-11 and Ezekiel 12:1-6 to see other instances where God asked a prophet to act out his message.

What do they have to act out?
What is God communicating through these actions?
Why do you think God acts in this way?
Does it have any implications for how we teach or share the bible today?
In Hosea 1:10, God reveals that there will be a place and a time where the people will once again be called his children. Read Mark 1:9-11. Who is Jesus, and how does God the Father feel about him?
Read Mark 15:33-37. What happened to Jesus' relationship with his Father as he died on the cross?
Read 2 Corinthians 5:21 and Galatians 3:26-27. What has Jesus' death achieved for his people? How is the cross the "place" God pointed his people to in Hosea 1:10?
DISCUSS:
Do you view sin as breaking little rules, or breaking a loving relationship? Do you find your sin as shocking as Gomer's treatment of Hosea? What difference will this description of sin make to you this week?
Do any of the passages from this week's bible reading plan connect to the study you just completed?

180-Day Guided Tour of the Bible
Reading Plan for Week of February 4th
Day 81 – Ezekiel 1: In Exile
Day 82 – Ezekiel 2-3: Toughening Up
Day 83 – Ezekiel 4: Write Large and Shout
Day 84 – Ezekiel 37: Resurrection Time
Day 85 – Daniel 1: Enemy Employers
Want to keep up with all that is going on at Wave? Simply fill out your communication card and write newsletter, to get a weekly