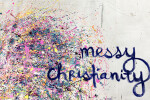 Life Group Study Guide: Loved what you heard on Sunday? Want to go deeper? The life group study guide will help you unpack what you heard on Sunday, while diving deeper into God's word.
CONNECT
What did you learn about parenting from your parents?
DIGGING DEEPER
Read 1 Corinthians 4:14-21.
How does Paul describe his relationship with the Corinthians (v.14)?
Who does Paul send to be with the Corinthians (v.17)?
Who is Timothy? Is he really Paul's son? Read Acts 16:1-5.
Paul was a spiritual father to Timothy. As a young believer, he needed guidance and direction to one day become the leader and pastor that God desired him to be. Throughout the book of Acts, Timothy walks closely with Paul and serves alongside Paul in his ministry. Read the following passages to get a sense of Timothy's "training." What patterns do you see? What would Timothy have been experiencing?
Read Acts 17:10-15, Acts 18:5-8, and Acts 19:13-2.
Paul would often send Timothy as his representative. Read Philippians 2:19-23. How does Paul describe Timothy?
As a spiritual parent Paul often encourages Timothy. Read 1 Timothy 4:11-13. What does Paul tell Timothy to do? How does he encourage Timothy? How is this verse an encouragement to you today?
As spiritual parents, sometimes we have to guide our children back on track. After a season of difficult ministry and much persecution, Timothy is discouraged. Read 2 Timothy 1:1-8. How does Paul respond?
DISCUSS
On Sunday, we learned spiritual parents give encouragement and discipline. Which one are you more inclined to give? Is it hard for you to give out the other? Why?
In 1 Corinthians 4:16, Paul urges the Corinthian church to imitate him as opposed to the world. Paul believed that if they followed his example they would become more like Jesus. In what way does your life set an example for others to follow Jesus? How are you imitating Jesus? What changes do you need to make?
Was there anything for this week's guided reading of the bible that connected to this study?
180-Day Guided Tour of the Bible
Reading Plan for Week of May 13th
Day 151 – 1 Corinthians 13: The Love Chapter
Day 152 – 1 Corinthians 15: The Last Enemy
Day 153 – 2 Corinthians 4: Baked Dirt
Day 154 – 2 Corinthians 12: Boasting of Weakness
Day 155 – Romans 3: Remedy
Want to keep up with all that is going on at Wave? Simply fill out your communication card and write newsletter, to get a weekly
email update from Wave!