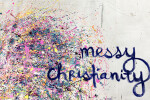 Life Group Study Guide: Loved what you heard on Sunday? Want to go deeper? The life group study guide will help you unpack what you heard on Sunday, while diving deeper into God's word.
CONNECT
What relationships are most important to you?
DIGGING DEEPER
Read 1 Corinthians 5.
Summarize what you read. What did Paul hear was happening in the church? How were the people responding? What should they be doing?
Sin is a big deal. That's why the Bible gives us a number of guidelines for dealing with sin in our own lives and in the lives of those around us. Read the following verses and identify when we're supposed to get involved in the lives of others, and the manner in which we are to do so. Matthew 18:15, Matthew 5:23-24, Galatians 6:1-5.
This isn't the only time Paul has used the imagery of yeast in comparison to sin (Galatians 5:9). Unchecked, sin will take over the host (the church). The man's sin was a single serious infection, but the church's lack of discipline was a complete failure of the immune system. Sin that no one deals with becomes sin that everyone will have to deal with.
How does Paul refer to Christ in 1 Corinthians 5:7?
Paul is referring to the exodus. We pick up the story as Moses is speaking to God's people (who are slaves in Egypt) about how God is going to rescue them. Read Exodus 12:17-28.



What did the blood of the Passover lamb achieve for God's people in Egypt?
In the feast at which God's people showed thanks for the exodus, yeast was significant. Why? (v17-20)
How should Christians, for whom Christ died, show they are part of His people today? (1 Corinthians 5:8)

Sin is related to yeast. What is God's love compared to? Read Matthew 5:13-16. In what ways do you live out this scripture?
DISCUSS
The church is often tempted to judge the world, while refusing to judge itself. Why do you think this is?
Are there any sins that you have cultivated an indifference to? What steps is God asking you to take?
Was there anything for this week's guided reading of the bible that connected to this study?
180-Day Guided Tour of the Bible
Reading Plan for Week of May 20th
Day 156 – Romans 7: Limits of the Law
Day 157 – Romans 8: Spirit Life
Day 158 – Romans 12: Down to Earth Problems
Day 159 – Acts 26: Unexpected Passage
Day 160 – Acts 27: Perfect Storm
Want to keep up with all that is going on at Wave? Simply fill out your communication card and write newsletter, to get a weekly
email update from Wave!