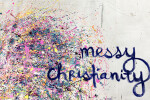 Life Group Study Guide: Loved what you heard on Sunday? Want to go deeper? The life group study guide will help you unpack what you heard on Sunday, while diving deeper into God's word.
CONNECT
Have you ever been deceived, or deceived anyone?
DIGGING DEEPER
Read 1 Corinthians 6.
Summarize what you read. What truths about God do you get from this passage?
Paul has been teaching about judging those inside and outside of the church. What have we learned so far?

1 Corinthians 2:15-3:4
1 Corinthians 3:10
1 Corinthians 3:19
1 Corinthians 4:1-5
1 Corinthians 5:1-5
1 Corinthians 5:9-13
Paul makes a pretty impressive statement in 6:2. What does he mean with this verse? (Read Matthew 19:28; 2 Timothy 2:12; Revelation 20:4)
"I have the right to do anything." This was the slogan of some of the Corinthian Christians (6:12). This faction felt that they were reigning with Christ already and that they were liberated from the law because (as a group of heretical Christians in Rome a few decades later would later say) "for a king there is no law prescribed." That later group cited Matthew 17:25-26 as proof that they could do whatever they wanted. Paul would never side with the legalists who denied people their freedom in Christ, nor would he countenance the extreme position of the libertines.
What reasons does Paul give for not having sex outside of marriage?

1 Corinthians 6:12a
1 Corinthians 6:12b
1 Corinthians 6:13-17
1 Corinthians 6:18
1 Corinthians 6:19-20
DISCUSS
What do you take pleasure in? Evaluate it according to the tests in 1 Corinthians 6:12-13, 19-20. Is it beneficial? Is it threatening to control you? Does it glorify God, who has bought you at a price and made your body a temple?
With what price have you been purchased? Read 1 Peter 1:18-19. How does this affect the way you live? Are there any changes you need to make in light of this truth?
Was there anything for this week's guided reading of the bible that connected to this study?
180-Day Guided Tour of the Bible
Reading Plan for Week of May 13th
Day 161 – Acts 28: Rome at Last
Day 162 – Ephesians 2: Prison Letter
Day 163 – Ephesians 3: Success Story
Day 164 – Colossians 1: Spanning the Gap
Day 165 – Philemon: A Personal Favor
Want to keep up with all that is going on at Wave? Simply fill out your communication card and write newsletter, to get a weekly
email update from Wave!