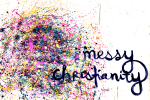 Life Group Study Guide: Loved what you heard on Sunday? Want to go deeper? The life group study guide will help you unpack what you heard on Sunday, while diving deeper into God's word.
CONNECT
Do you often think of yourself as a strong person or a weak person? In what areas of your life do you feel strong or weak?
DIGGING DEEPER
Read Romans chapters 14-15.
What are the similarities between Romans 14-15 and 1 Corinthians 8?
Is Paul's response any different? What sticks out to you?
DISCUSS
Have you ever had to limit your freedoms for the benefit of another?
Is there a weaker brother/unbeliever that God is calling you to "welcome in" as Paul says in Romans 15:7?
Was there anything in this week's guided reading of the bible that connected to this study?
180-Day Guided Tour of the Bible
Reading Plan for Week of June 10th
Day 171 – Hebrews 12: Marathon Race
Day 172 – James 1: Walk the Talk
Day 173 – 1 Peter 1: Converted Coward
Day 174 – 2 Peter 1: Hidden Dangers
Day 175 – Jude: Sounding the Alarm