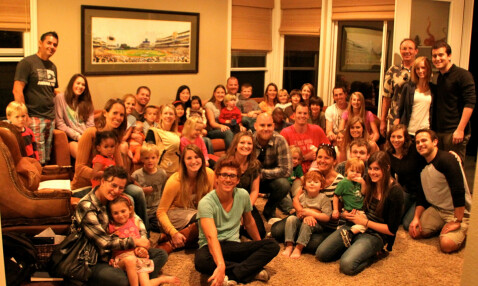 Wave Church SD was birthed in December 2010 as a simple gathering of families in a local home in San Diego. Our heart and desire was simple: to experience the joy of following Jesus together as a church family.
Before we knew it, our tiny gathering had grown to take over the whole living room and kitchen; the kid's ministry was in the garage, and the nursery upstairs!
Wave held its first Easter service in April 2011 at Del Mar Beach. Thinking we would have just a few families join us, we were blown away when we had over 100 people join us to worship our Risen Savior! We knew God was on the move. God opened the doors for our little family to move from a house to Ocean Air Recreation Center.
As our little church family grew, we understood the importance of doing life together because life is complicated enough. We simply committed to connect with Jesus and one another, to grow in our faith, and to serve our world with the love of Jesus.
These are still the simple traits that mark our spiritual family today: Connect, Grow, Serve.
From 2011-2018, Wave meet at Ocean Air Recreation Center. We wanted to be in the community, for the community, and to reach everyone with the Gospel of Jesus. God blessed us during our time at Ocean Air, and provided many opportunities to meet the needs of many in our community.
We came to realize that in order to reach our community with a radical message, we would have to take radical measures; to reach people no one else was reaching, we would have to do things no one else was doing. We find this reality captured in the very words of Jesus in Luke 5:37-38, "no one puts new wine into old wineskins. If he does, the new wine will burst the skins and it will be spilled, and the skins will be destroyed. But new wine must be put into fresh wineskins."
The question for Wave was 'What new expression is God forming us into as we seek His Kingdom?' Instead of seeking to find ways for our family, friends, and community to come to us, we began to seek every way possible for us to go to them.
During the winter of 2018, we found that once again we had outgrown our current space, and our kids' ministries were overflowing into outside tents. While Ocean Air Rec. Center had provided many fantastic opportunities, we believed God was leading us to take another step of faith, and to transition our services to Willow Grove Elementary School.
While our little church has grown and changed spaces, our heart and vision has never changed.
We desire to be a Church that makes disciples in a healthy church family. Life is complex, so we seek to do life together simply to remind us all that we are not alone -- we praise together, we weep together, we pray together. Every day we live as a church in the community, for the community, to reach our community with the Gospel of Jesus!