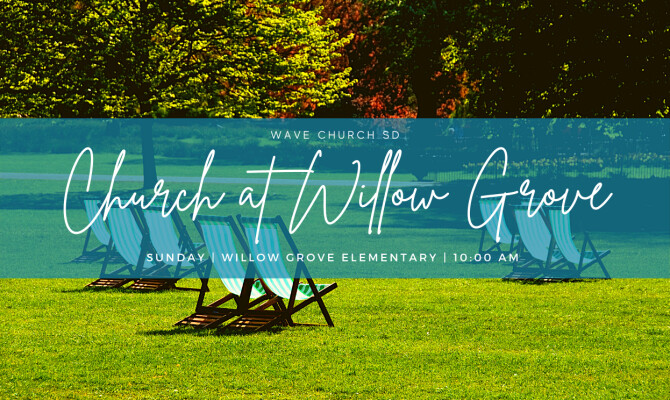 Every Sunday, from 09/06/2020 to 08/29/2021, 10:00 AM - 11:00 AM
CHURCH AT WILLOW GROVE
SUNDAY at 10:00 a.m. at Willow Grove Elementary School
We are pleased to be able to provide an in-person service for those who desire to worship together physically. We also have an online worship option for those who desire to worship at home. Either way, we are glad you're with us.

Willow Grove Elementary is located at: 14727 Via Azul, San Diego, CA 92127
*Enter through the tent to take you to the outdoor cafeteria area.
CHURCH AT WILLOW GROVE DETAILS:
1. Get ready to Worship! We are so excited to be able to come together to worship Jesus Christ!
2. What to Know:
Tables - We will all be shaded in the picnic table area. One family per table, please.
Chairs - In case you do not wish to sit at a picnic table, feel more comfortable sitting a little farther away, or if your little one needs to stretch out, please feel free to bring chairs and spread out around the cafeteria area.
Headphones and a smartphone or tablet for your kids to participate in Kids Church online!
Warm Clothing - It is cold in the morning during the winter months, so please remember to bundle up or bring a blanket to sit on.
3. Download the Wave Church SD App! The new app is where you will find all of our service info, song lyrics, sermon notes, and more, right in the palm of your hand!

4. Follow the Safety Guidelines: We will be adhering to the county safety regulations during our meeting time. We thank you in advance for your cooperation. As the community of God, it is important to show how we care for others through our actions, and do what we can to ensure everyone's safety.
FACE COVERINGS: Please wear a face-covering while entering / exiting, during worship, using the restroom, or any other activities where six-feet social distancing may not be possible. At your seat you may remove your masks.
SOCIAL DISTANCE: Please stay with your Family pods, only one family per picnic table in the seating area. Please practice six-feet social distancing from those not in your household.
CLEANLINESS: Please use the hand sanitizer stations as you enter and exit. Wash your hands thoroughly if you use the restroom.
HEALTH SCREENING: Please do a health assessment of yourself and those in your family before coming to Sunday's service. If you or someone you have been around is showing COVID symptoms within the last 14 days, please join us online. Read about COVID symptoms here.
We all have different needs in this COVID-19 season. For those with the need for in-person worship please enjoy church in the park. For those with the need to remain at home please enjoy church online. However you join our service on Sunday, whether in person or online, we are grateful you are part of our Wave Church family!