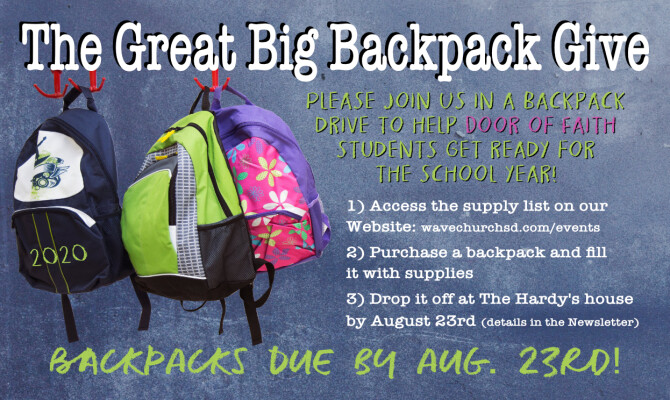 Thursday, July 30, 2020 - Sunday, August 23, 2020
Wave Church SD is collecting backpacks and school supplies for the students at Door of Faith Orphanage in Mexico!
Since we cannot gather together this year, please continue to be the hands and feet of Jesus by ordering/buying a backpack and school supplies, filling it at home with your family, and drop it off at the Hardy house by Aug. 23, 2020.
We have provided links for suggestions or to aid in your shopping, but please purchase items wherever you do your shopping. We are grateful for your support of this event!
School Supply List 2020
Backpacks: sturdy brands, please. (Amazon)
Colored pencils (Target)
Liquid glue (Target)
Glue sticks (Target)
Scissors (Amazon)
Erasers (Target)
Markers (Target)
Pencil sharpeners (Target)
Pens (Red, black, and blue) (Amazon)
Pencils (Ticonderoga No. 2 pencils) (Target)
Highlighters (Target)
White Out/Liquid Paper (Target)
Paper sheet protectors (Target)
Pocket Folders (for 3-ring binders) (Target)
Binders (1 - 2 inches) (Amazon)
Composition notebooks (4 per child/different colors please) (Target)
School supply boxes (Target)
Sketch books (white paper books to draw pictures on) (Target)
Geometry sets (Target)
Bright foam sheets
Glitter foam sheets
Reams of white paper