Student Ministries
Middle School/Jr. High and High School
Welcome to Wave Student Ministries! Our mission is to encourage and develop students to become fully devoted followers of Christ, and we can only achieve that by working together. Student Ministries is a partnership with the support pillars of our church -- Adults, Students, Parents, and Church Leaders -- to foster growth, to provide a safe place for questions, conversation, and development, and to offer a loving community for our young people.

Our Vision
Adults who genuinely care for and love students
Students who feel like they are loved and accepted as a part of our family
Parents loving our students and living the example
a Church who ministers to and is ministered to by its students within
Our Purpose
Student Ministries exists to anchor Jr. High/Middle School and High School students to God's word, through godly leaders, and into godly relationships that help students remain steady in the midst of the currents of life.
Through engaging, relevant, and applicable lessons that are rooted in scripture, Wave Students learn how to become a powerful force for the kingdom of God.
To not ride waves (trends), but rather develop an authentic relationship with Christ to be the energy that makes or initiates waves in ourselves, our church, and our communities.
Our Staff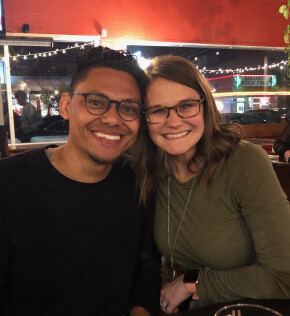 Tim Lofties
Student Ministry Director
Tim and Lacy Lofties
Tim was born and raised in Oklahoma City, Oklahoma. He loves both playing and watching sports. He and his wife, Lacy, enjoy watching Oklahoma City Thunder basketball and enjoying fun, new restaurants. Tim and Lacy have served in youth ministry for eight years prior to serving at Wave. They love students and want to encourage and develop students to become fully devoted followers of Christ.