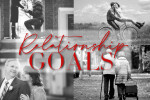 Need Some new ideas?
We are invested in your relationships. No matter if you are dating, engaged, or married, our prayer is for you to grow in your relationship with Jesus, which will positively impact the relationships around you. Sometimes finding new or creative ways to step away from day-to-day life can be a challenge. When we don't take that time, though, the quality of our connections with the people we love can easily diminish.
If you need some date night suggestions, Dave Ramsey has created a list of 40 date ideas that won't break the bank, and might point you in a new direction for something fun to do together, and help you build a deeper connection with your partner.