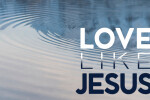 Life Group Study Guide: Loved what you heard on Sunday? Want to go deeper? The life group study guide will help you unpack what you heard on Sunday, while diving deeper into God's word.
Connect:
What have you found yourself taking joy in over the past few days?


Dig Deeper:
Read 1 Thessalonians 1:2-10
Context: Paul has received a report from Timothy about the Thessalonian church. Paul writes to them to restore their hope, which has been tested by unexpected storms of deaths and persecution in the church. He reassures them that both the dead and the living believers will be safe at the second coming (4:13–5:11). In addition, Paul wants (1) to stress the authenticity of himself, Silas, and Timothy as preachers of the gospel (1:5; 2:1–12; 2:17–3:10); (2) to teach them that trials are normal for Christians (3:3–4); and (3) to challenge them to take responsibility for living out their faith (4:9–12).
What three things did Paul find himself thanking God for concerning the church in Thessalonica?


What things have you found yourself thanking God for about your church?

What might have, "a work of faith, a labor of love, and steadfastness of hope" (vs. 3) looked like in the context of this church?
How did the Gospel come to the church in Thessalonica? Why is it important that we experience not only the word of the Gospel, but also the power and conviction of the Holy Spirit? (vs. 5)


We are told that the word of God came to the church in Thessalonica under much affliction. How might our context shape how we receive and understand God's word to us?
What was the impact of the Gospel on the church in Thessalonica and the surrounding regions? (vs. 7-10)
Make It Personal:
On Sunday, Pastor Jason presented three marks of a comforting Christian from 1 Thessalonians (Faithful Work, Loving Deeds, Enduring Hope). How have you seen or experienced these this week?

What steps are you taking to process the many words that are being spoken on the news and social media? Do you find the words you are listening to lead you to wisdom or to worry?

How have you had the opportunity this week to use your words to lead others towards wisdom instead of worry?

Read John 15:12-17

. How does Jesus encourage us to love? On Sunday, Pastor Jason encouraged us to practice sacrifice not selfishness. How might we do this in simple practical ways at home?

What stories have you seen of sacrifice and selfishness this past week? Which stories inspire you to act?

Over this past week, have you found yourself moving toward prayer or panic?

How might prayer affect us in this season?

What was one thing you have found God teaching you this week from this week's sermon, life group study, or your own personal time with Jesus?