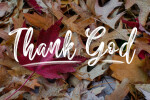 Connect:
When was a time that you were on the receiving end of irrational generosity? How did it make you feel, and how did you respond?
Dig Deeper:
Read 2 Corinthians 9.
What is the context of this passage? Why does Paul feel it necessary to teach the Corinthians about generosity before they give?
What is the difference between giving and generosity?
Why do you think many in today's modern church culture have a resistance to giving?
What are the two ways to give and their corresponding results that Paul introduces in verse six?
How is God's generosity seen in this passage of scripture?
What responsibility does God have in our generosity? What responsibility do we have?
According to verses 10-15, what are the two outcomes that Paul tells the Corinthians that their generosity will produce?
What is the inexpressible gift that Paul mentions in verse 15?
Make It Personal:
How do you prepare yourself for the giving season of Thanksgiving and Christmas?
Do you ever feel burned out or overwhelmed by the need to give during this season?
One a scale from 1 -10, how generous are you with your life?
Read Luke 6:38. Have you ever experienced a moment where you gave only to receive more? What does it mean to be pressed down, shaken together, running over?
On Sunday, Pastor Jason introduced the cycle of Scarcity and Abundance. How have you personally experienced these cycles? Do you find you operate from a scarcity mindset or an abundance mindset?
What opportunities is God giving you to be generous this Thanksgiving and Christmas season that will cause others to praise God?