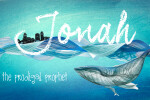 Life Group Study Guide: Loved what you heard on Sunday? Want to go deeper? The life group study guide will help you unpack what you heard on Sunday, while diving deeper into God's word.
Connect:
When was a time that you received a gift that was unexpected or even undeserved?
Dig Deeper:
Read Jonah 1:1-17.
Compare the sailors' prayers in verses 5, 6, 14, and 16. How did the sailors' relationship to God change throughout this text?
What is significant about the sailors' offering sacrifices and vows after the storm had ceased and the seas grew calm?
Compare the sailors' response in this text to Jonah's. How has Jonah's relationship with God changed?
Why do you believe in verses 11-12 that Jonah tells the sailors to throw him into the sea? Was this an act of contrition? Or another means to refuse to go to Nineveh and fulfill his calling?
Why do you believe in verse 13 that the sailors first tried to row to shore rather than just tossing Jonah overboard as he had asked?
Notice in verse 14 that the sailors' fear has shifted from fear of perishing from the storm to fear of perishing due to them throwing Jonah into the sea. What is significant about this shift?
Make It Personal:
Read Matthew 12:40-41. After having read the opening section of Jonah, what do you think Jesus meant by this? How has Jesus become greater than Jonah? What has changed in our relationship with God, ourselves, and others when Jesus becomes our substitute?
Do you tend to be quick to admit your faults, or do you tend to resist until you experience the consequences?
Was the storm necessary? Could there have been another way for God to get Jonah's attention? Could there have been another way for God to fulfill His mission? Why was God so set on using Jonah?
How do you personally feel about the image of God being both loving and angry at the same time? Can it be possible for God to express anger or wrath and still be loving?
On Sunday the point was made, "We must first come to grips with what we deserve before we will ever realize the magnitude of God's grace." How do you see this truth in your own life?
Pastor Jason pointed out that "True faith seeks God for who He is, not for what He can do for me." When you pray, do you tend to ask for what you need, or simply to enjoy His presence?
What is one take away that has impacted you as a result of this week's study?