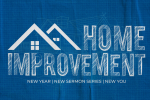 Life Group Study Guide: Loved what you heard on Sunday? Want to go deeper? The life group study guide will help you unpack what you heard on Sunday, while diving deeper into God's word.
Connect:
As you enter a New Year, what prayers, hopes, dreams, expectations, or resolutions do you have for 2019?
What insight, observations, or questions did you have from this Sunday's sermon?
Dig Deeper:
Read Matthew 7:12-27.
Who is Jesus talking to as he gives these parables? What groups of people do you see him mention?
As Jesus concludes his Sermon on the Mount, he gives us three examples: Two Roads, Two Trees, Two House Builders. How do these three parables compare to each other? What is the simple truth Jesus is trying to teach in each of these three parables?
How are the wise and foolish described in each of the three parables? How were the wise and foolish defined in this week's sermon? (See notes.) What is the eventual outcome for the wise and foolish? How do you think those hearing Jesus responded?
Make It Personal:
Read 1 Corinthians 1:20-31. Why does the wisdom of God seem foolish to our world? Do you ever find it easier to seek and follow the world's wisdom against God's wisdom?
In your own story with God when have you found yourself relying on God's wisdom against the world's wisdom? What was the outcome?
What steps are you taking personally to build your life on God's wisdom?
What is one take away from this week's study that you will commit to place into action?