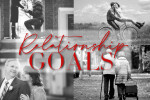 Life Group Study Guide: Loved what you heard on Sunday? Want to go deeper? The life group study guide will help you unpack what you heard on Sunday, while diving deeper into God's word.
Connect:
What couples or marriages do you most look up to and why?
Dig Deeper:
Priscilla and Aquila are an example of a couple that was Christ-centered and Mission-driven. Read the following verses to gain some insight into this Godly marriage.
Read: Acts 18:1-4, 18-21, 24-26; Romans 16:3-4; 1 Cor. 16:19; 2 Timothy 4:19
What do we learn about Priscilla and Aquila from these verses?
How did Priscilla and Aquila use their jobs and resources to fulfill a greater, more unified mission?
How did they serve Jesus and the church together?
How were their roles different, but still focused on the same unified mission?
How is this couple different than what we might consider the "normal examples" of marriage we have around us?
How might Priscilla and Aquila provide us an example of a Christ-centered, mission-driven life?
Make It Personal:
How can you tell when a couple is unified in mission and "walking together?"
What do you think about the statement, "The foundation of a Godly marriage is not happiness. It is unity"? Why is happiness the wrong mission for a relationship?
On Sunday, Pastor Jason made the point, "What God seeks to unite, Satan schemes to divide." What are some of the methods Satan uses to divide relationships?
Read Amos 3:3. Is it possible for two people in a relationship to have a healthy relationship without agreeing on the direction they should go?
What most accurately describes your relationship: no direction, one direction, or multiple directions?
What are the things you love? What are your passions? How could those become part of your mission?
In your relationships, how are you already mission-driven? How could you be more unified?
If you are single, how can you pursue the mission God has given you in the coming week?
Take a few moments to write down your mission in a sentence or two. If you're in a serious relationship, write it together. Share your statement with your life group.
What is one take away or action you plan to make as a result of this week's study?