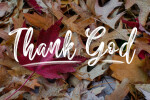 Connect:
What is the silliest thing you complain about? (Slow high-speed internet, broken a/c in your second car, etc.)
Dig Deeper:
Read Luke 17:11-19.
What insights, observations, or questions do you have from this passage of scripture?
What is leprosy? How did it impact these men physically, relationality, socially, financially, and spiritually? (Read Leviticus 13 for more.)
What was at risk for the lepers that called out to Jesus for mercy?
Why did Jesus tell the lepers to go show themselves to the priest?
What is significant about the one leper that returned to thank Jesus? How does this man's ethnicity change the story?
Why do you think only 1 out of 10 lepers retuned to thank Jesus?
Jesus tells the leper that, "his faith has made him well." Was he not already well? What do you think Jesus meant by this?
Make It Personal:
How do you find yourself living like the grateful leper? Like the other nine?
What do you think an attitude of greater gratitude could unlock in your life?
On Sunday, Pastor Jason gave us three statements to increase gratitude in our lives. Which one has impacted you the most? Which one do you need to practice the most?
What good things in your life have been a gift from God that you do not thank Him enough for?
Is there an area of your life where you are dissatisfied? Wishing you had more or better?
How has what you want robbed you of the joy of what you currently have?
What blessing in your life do you need to turn into praise?
What are some curses in your life that can be switched into opportunities of praise?
What is one take away that you will place into action in your life as a result of this week's study?