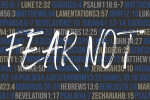 Life Group Study Guide: Loved what you heard on Sunday? Want to go deeper? The life group study guide will help you unpack what you heard on Sunday, while diving deeper into God's word.
Connect:
What is your current go-to way of relaxing?
Once social distancing ends, what is the first thing you'd like to do?
Context: Paul was put in prison in Rome because of his faith in Christ. He was persecuted and treated like a criminal. He could've complained and become depressed about being confined to prison when he didn't do anything wrong. He could've been anxious and fearful about being abused and executed. He could've been angry at God. Instead, Paul wrote the most thankful, joyful, and loving letter to the people of Philippi. His example inspires us to be thankful to God in difficult circumstances. Why? Because "the Lord is near" (Phil. 4:6).
Read Philippians 4:4-8
"The Lord is near" is a huge faith statement! What do you need to believe to rejoice in the truth that the Lord is near?
Paul gives the Philippian Church a double command to rejoice in the Lord. Notice he does not say rejoice in our circumstances. How does rejoicing in the Lord change our response to our current circumstances?
What does it mean to let your reasonableness be known to everyone? Would you say this currently describes you? Why or why not?
How do you think Paul meant us to practically apply his words, "Do not be anxious about anything?" Does this mean we should never get anxious?
When anxiety comes, how does Paul encourage the Church to respond? How is this response different to what we see in the world today?
How might you define prayer and praise? How are they different? Similar? Can you have one without the other?
How is the peace of God described by Paul? What does the peace of God allow us to do? (see vs. 8-9) How easy is it to think about what verses 8-9 describes when our hearts and minds are not at peace?
Make It Personal:
What is stressing you out the most right now?
Take a moment to pause and pray by yourself or with your Life Group about what brings you anxiety.
If you were to identify where you are on the anxiety meter, what level are you currently and why? (Green, Yellow, Red)
What kind of lies do you think Satan wants you, specifically, to believe when you are in a season of anxiety?
Have you ever found yourself repeating the lies of Satan (i.e. It's always going to be this way; I'm doomed; This is going to be really bad, etc.) What steps can we take to flip the script?
What kind of truths do you think God wants you, specifically, to believe when you are in a season of anxiety?
On Sunday, Pastor Jason made the point that anxiety is not a sin, it is a signal. How might you reshape how you respond to anxiety as a result of this truth?
Pastor Jason made the point, "Prayer and praise always proceed peace." How have you seen this to be true in your own life? Are you currently experiencing peace in your life?
Take a moment and make a list of five things that you can praise God for. Share them with a friend or your Life group.