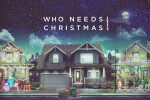 Life Group Study Guide: Loved what you heard on Sunday? Want to go deeper? The life group study guide will help you unpack what you heard on Sunday, while diving deeper into God's word.
CONNECT:
What is your favorite Christmas gift ever? Why?
Talk about a time you had trouble convincing someone of something you knew to be true. What did you say?
Digging Deeper:
The Christmas story began in Genesis with God's promise that through one man the entire world would be blessed. Apparently, the world needed blessing, but it wasn't only the world that needed Christmas. God needed it, too.
Read Galatians 4:4-7
In what ways does our culture tempt us to behave like slaves even though we're God's children?
During the message, Pastor Jason said, "The events of Christmas would be unbelievable if the story wasn't so remarkable." Do you find the Christmas story unbelievable or remarkable? What are some of the things that have shaped your view of Christmas? 

Read Romans 5:6-8
What are some truths about God that you wouldn't know if Jesus hadn't demonstrated them?
During the message, Pastor Jason said, "Jesus' death demonstrated the magnitude of our ingratitude and the magnitude of his love for us." Is it difficult for you to believe God loves you that much? Why or why not?


MAKING IT PERSONAL:
Christmas is a time we celebrate the birth of Jesus, but before his birth was that of John the Baptist's. Luke 1:16-17 tells us "And he will turn many of the children of Israel to the Lord their God, 17 and he will go before him in the spirit and power of Elijah, to turn the hearts of the fathers to the children, and the disobedient to the wisdom of the just, to make ready for the Lord a people prepared." John the Baptist prepared the way for Jesus' ministry. As we look expectantly toward Christmas, are you spiritually prepared for the significance of what Christmas means? Christmas is a reminder of the fact that we are in need of a Savior. Christmas is an indictment before it becomes a delight.
How do you find yourself personally relating to the passages you read in this study?
What is one take away, insight, or action step that you will take as a result of this study?
Is Jesus preparing you for something this Christmas? How might the Christmas story give you encouragement?
180-Day Guided Tour of the Bible
Reading Plan for Week of December 10th
Psalm 51: True Confession
Psalm 139: David's Spiritual Secret
1 Kings 3: Raw Talent
1 Kings 8: High Water Mark
Psalm 84: Home Sweet Home